Bishop Francis Schuckardt
I suspect that much information about Schuckardt from 1959 to 1967 has been repeated uncritically for decades. I would question his education, travels, sickness, and his time in Carthage, Missouri. This time in his life needs more research.
This text is largely pulled from a Wikipedia editor around 2005, when there was an edit war going on between current and former members. This section needs to be rewritten, but there are some interesting parts in this version of the story.
Sexual Abuse—Schuckardt As Victim
It's possible that Francis Schuckardt grew up around more abusive & rapist priests than anyone in history. This aspect of his biography is ignored by everyone.
Francis Schuckardt may have been sexually abused while as a student at O'Dea High School, at Seattle University, and Our Lady of the Ozarks Seminary. Abusive priests & brothers operated out of all three of these schools while Schuckardt was attending. The west coast in the 1950s was a hotbed of abuse, especially within the Jesuit West province.
O'Dea High School (1950 to 1954)

O'Dea High School was founded and operated by the Congregation of Christian Brothers (CFC).

Br. Gerard Aloysius Kealy, CFC (source) was assigned to O'Dea High School in 1954 and may have abused Schuckardt during his senior year.

Plagued by a torrent of physical and sexual abuse lawsuits, the Congregation of Christian Brothers (CFC) in North America filed for Chapter 11 bankruptcy in April 2011. Of all the allegations pending against the Christian Brothers, the most serious accusations involve Brother Edward Courtney, who taught at O'Dea in Seattle from 1974 until he was removed for sexual abuse in 1978.
Seattle University (1954 to 1959)

Seattle University was founded and operated by the Jesuits. In the 1950s they harbored numerous serial rapists and abusers. Anyone who attended in these years may have been routinely raped & assaulted. Schuckardt attended at the likely peak of priest rape on the west coast.

James E. Poole, SJ was assigned to Seattle University 1954 to 1955. James Poole was a serial pedophile priest (source) and had molested young women and children throughout the west coast from 1948 to 1980.
Michael T. Toulouse, SJ was a sexually abusive priest (source) assigned to Seattle University from 1952 to 1976. He was a serial abuser and had abused minors throughout the 1950s and 1960s.
Rev. Augustine J. Ferretti (source) was assigned to Seattle University from 1953 to 1955.
Engelbert Axer, SJ was an abusive priest assigned to Seattle University from 1956 to 1978. He had abused a minor in 1957.
John S. Harrington, SJ was assigned to Seattle University from 1951 to 1966. He was accused of sexual abuse of a minor in 1975.
Paul C. O'Connor, SJ was assigned to Seattle University 1959 to 1960. He had abused minors from 1951 to 1955.
OMI Our Lady of the Ozarks Seminary (1959 to 1960)

The following priests have been credibly accused of abuse of a minor & had connections to the College in Carthage (source):

Fr. Michael Joseph Charland, OMI (source), Oblates of Mary Immaculate Oblate House at Our Lady of the Ozarks, Carthage, MO, (opened junior seminary in 1944, Diocese of Kansas City, closed in 1971); possible supply priest at St. Ann Parish, Carthage, or area. No assignment by diocesan bishop. 1989—Laicized, returned to lay state 2004—Deceased

Note: Charland attended the seminary from 1959 to 1963 and was likely in contact with Schuckardt.

J. Vincent Fitzgerald, OMI, Oblates of Mary Immaculate Oblate House at Our Lady of the Ozarks, Carthage, MO, (opened junior seminary in 1944, Diocese of Kansas City, closed in 1971); possible supply priest at St. Ann Parish, Carthage, or area. No assignment by diocesan bishop. 2009—Deceased
Thomas G. Meyer, OMI, Oblates of Mary Immaculate Oblate House at Our Lady of the Ozarks, Carthage, MO, (opened junior seminary in 1944, when still part of the Diocese of Kansas City, closed in 1971); possible supply priest at St. Ann Parish, Carthage, or area. 1998-1999—Pastor, Immaculate Heart of Mary Parish, Mansfield, MO, and St. Leo the Great Parish, Ava, MO 2012—Deceased
Orville Munie, OMI, Oblates of Mary Immaculate 1944-47—Oblate House at Our Lady of the Ozarks, Carthage, MO, (opened junior seminary in 1944, when still part of the Diocese of Kansas City, closed in 1971); possible supply priest at St. Ann Parish, Carthage, or area. No assignment by diocesan Bishop. 1993—Deceased
Emil Twardochleb, OMI, Oblates of Mary Immaculate 1948-1950—Oblate House at Our Lady of the Ozarks, Carthage, MO, (opened junior seminary in 1944, when still part of the Diocese of Kansas City, closed in 1971); possible supply priest at St. Ann Parish, Carthage, or area. No assignment by diocesan bishop. 1996—Deceased
Bernard Vedder, OMI, Oblates of Mary Immaculate 1959-1964— Oblate House at Our Lady of the Ozarks, Carthage, MO, (opened junior seminary in 1944, when still part of the Diocese of Kansas City, closed in 1971); possible supply priest at St. Ann Parish, Carthage, or area. No assignment by diocesan bishop. 1995—Laicized, returned to lay state
Sexual Abuse—Schuckardt as Perpetrator
Francis Schuckardt (leader of CMRI from 1967 to 1984) was accused of molesting at least four seminarians. He had been accused in the early 1980s by Fr. Clement Kubesh, but his accusations were ignored by the rest of the priests and brothers. It wasn't until 1984 that these accusations were made public to the group.
Early Life
Schuckardt was born in Seattle, Washington on July 10, 1937. He graduated from O'Dea High School in Seattle in May 1954 and from Seattle University in 1959 with a bachelor's degree in education and linguistics. After graduating from Seattle University, he enrolled in Our Lady of the Ozarks College in Carthage, Missouri operated by the Missionary Oblates of Mary Immaculate (OMI). Writers have noted he was only in the seminary for a short time before leaving due to "illness" around 1960. I suspect that Schuckardt may have been involved in homosexual abuse around 1960 in the seminary when he was around 22 years old (numerous sexually abusive priests have been connected to the OMI Seminary during the time Schuckardt attended). This may explain the later claims of homosexual abuse against Schuckardt, his ongoing sickness, and drug addiction. Strangely, Archbishop Thuc was to end his life at this same seminary in 1984 (Thuc is also buried in Carthage, Missouri). Go to the main Carthage page for additional information.
After he left Carthage, he began teaching high school in Seattle and worked as a linguistic research analyst.
In 1961, Schuckardt was stricken with typhoid. This was the beginning of a long succession of ilnesses. He was in and out of a coma for eight days. He experienced a remarkable recovery which he attributed to a miracle of the Blessed Virgin Mary. In January of 1963, he was hospitalized with thrombophlebitis of the legs. The infection had spread and doctors decided to amputate. The illness reversed itself to which Schuckardt again attributed to a miracle resulting from a promise he made to Our Lady of Fatima, promising her that he would use his legs to travel and spread her message.
The Blue Army
In 1958 Schuckardt joined the Blue Army of Our Lady of Fatima, a group devoted to spreading the message of Our Lady of Fatima. In the 1960s Schuckardt had gained considerable notoriety as a charismatic speaker for the Blue Army and was elected to its International Council in 1963 at the age of 26.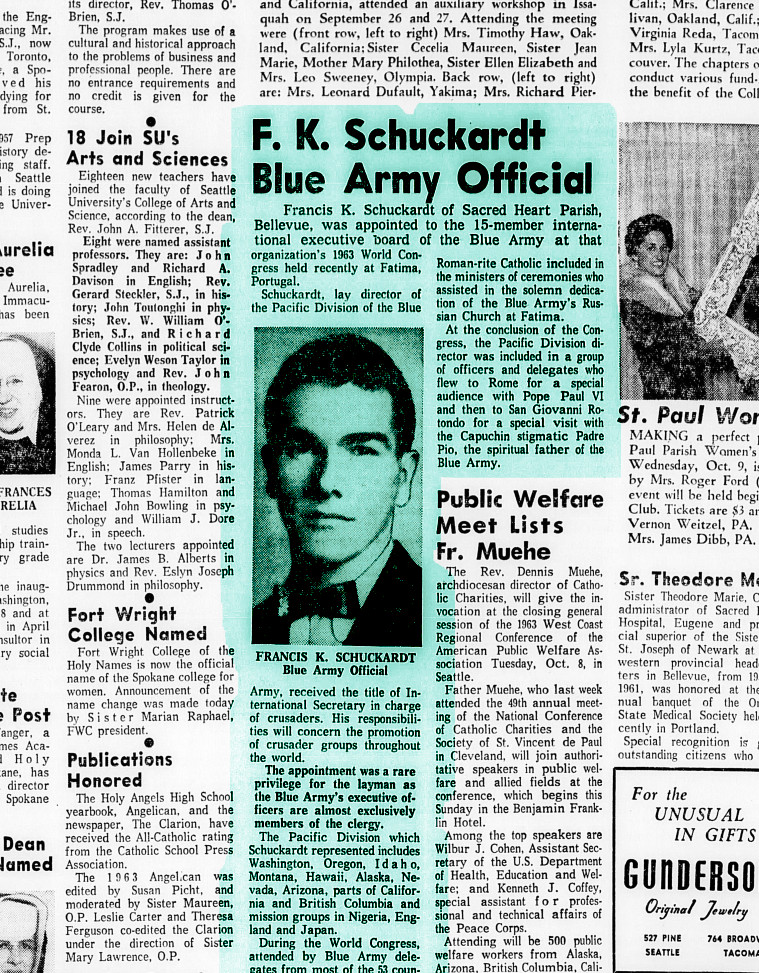 Schuckardt was the only member of the Council who was not a national chairman. He was subsequently appointed international secretary of the council. In the wake of the Second Vatican Council and the New Rites of the church, Schuckardt began to speak out against the various liturgical reforms and other changes in the Church during his Blue Army lectures.
Francis Konrad Maria Schuckardt (a Catholic layman from Seattle, Wash.) and Robert Denis Chicoine (a former marine, bricklayer, and newspaper man from New Bedford, Mass.) attracted their initial followers through international speaking tours as part of The Blue Army of Our Lady of Fatima. Chicoine had first seen Schuckardt speak in San Diego in 1965 for 3 nights, immediately becoming Schuckardt's disciple. Schuckardt had widely toured the United States, Europe, Latin America, North Africa, Vietnam, and Scandinavia from 1963 to 1967, leading to considerable fame as International Secretary of The Blue Army. Schuckardt produced casette tapes with titles such as "Communism in America? No Way!" Global travel & distribution of cassette tapes was to be a central method of recruitment & information for decades. The focus of these speaking tours was the message of Our Lady of Fatima, the Third Secret of Fatima, anti-Communism, Marian apparitions, and Marian devotions. Former members noted that Schuckardt used the mystery regarding the third secret of Fatima to install fear and loyalty. A common topic on these tours was "Fatima Manifesto vs Communist Manifesto." Tensions of the Cold War during the 1940s and 1950s created much of the atmosphere for these talks.
These speaking tours were being conducted in the mid to late 1960s when there were major changes occurring in both the Catholic Church & wider world. Schuckardt was a charismatic speaker and was able to capitalize on the obvious changes, especially the change in religious costume for nun, popular female fashions of the laity, and the Novus Ordo Missae that was made obligatory throughout the U.S. in the early 1970s. A growing tactic of these speaking tours was to read selections of documents produced by The Vatican prior to the 1960s and to contrast these against documents produced by The Vatican since the 1960s in order to convince audiences that major changes in The Catholic Church have occurred. The printing of Papal Encyclicals for worldwide distribution had become available only in the 19th century and these documents produced in the 19th and early 20th centuries became the primary source of their speaking material.
Influenced by the writings of the Mexican theologian Joaquin Saenz Arriaga, who initially proposed the sedevacantist thesis, Schuckardt came to the conclusion that Pope Paul VI was a false pope. He began to share this view during his Blue Army lectures. Most audiences turned away from him, but he was building a following among disaffected Catholics. In 1967, the Blue Army dismissed him, and Schuckardt and a Blue Army associate, Denis Chicoine, founded a lay organization known as the Fatima Crusade in Coeur d'Alene, Idaho.
Fatima Crusaders
In 1967, with the approval of Bishop Sylvester Treinen, the Roman Catholic Bishop of Boise, Idaho, Schuckardt founded an order of sisters, brothers, and priests known as the Congregation of Mary Immaculate Queen of the Universe (in Latin: Congregatio Mariae Reginae Immaculatae, abbreviated as CMRI). With his rejection of the reforms and authority of the Catholic Church, he formed a separate church known as the Tridentine Latin Rite Catholic Church (TLRCC).
Schuckardt and Chicoine began a national lecture circuit advocating a return to traditional Catholicism. Due to their outspoken rejection of the Second Vatican Council and embrace of Sedevacantism, Schuckardt and his followers were denounced by the post-Vatican II Catholic Church. Several priests, namely Lawrence Brey, Burton Fraser, George Kathrein (who later joined the Society of Saint Pius X), Pinneau, and Clement Kubesh had joined Schuckhardt and would provide the Fatima Crusade with the traditional Sacraments and the Tridentine Latin Mass. Brother Schuckardt, however, felt the need to have a bishop to ensure, in his mind, Apostolic Succession in the Catholic Church.
In 1969, a Daniel Quilter Brown, a married man with two children, received episcopal consecration as an Old Roman Catholic bishop in the line of Arnold Harris Mathew. Brown had been born and raised a Roman Catholic, but he was disenchanted with the reforms of Vatican II. Brown had therefore chosen to become an Old Roman Catholic bishop in order to perpetuate valid episcopal orders, believing that the Old Roman Catholics still retained valid Orders. Despite the fact that Bishop Brown obtained his consecration in the Old Roman Catholic Church, he and his followers called themselves Roman Catholics and refused to use the title of "Old Roman Catholic". Shortly after his consecration, he broke all ties and communications with the Old Roman Catholics.
Bishop Brown soon became acquainted with Brother Schuckardt and tried to persuade him to accept ordination from him, because "in view of the fact that we cannot exist for long as Catholics without the sacraments, I would propose to ordain to the priesthood a qualified member of your group (from the information I have, this would probably be yourself)..." Later he proposed to consecrate Brother Schuckardt to the episcopacy in addition to ordaining him to the priesthood.
Schuckardt sought out the advice of some traditional priests who had not accepted the changes of Vatican Council II, particularly from Fr. Burton Fraser, a Jesuit from Colorado, who advised him that it was in accord with Catholic principles, under the current extreme circumstances, to proceed to consecration. In the meantime, Bishop Brown openly repented of having received consecration from the Old Roman Catholics, broke all ties with them, made a public "Abjuration of Error and Profession of Faith", confessed his sins, and received absolution from a traditional priest. It was only after these events that Brother Schuckardt agreed to receive consecration from Bishop Brown: "[T]hese past months have been spent in intense soul searching and continuous prayer to know and follow God's holy will. Thus I could not give you a reply until I felt fairly certain in my heart and mind. Now, finally, in concluding our novena in honor of the Annunciation, I have come to a decision. It is with holy trepidation that I accept your offer..."
On October 28, 1971, Bishop Brown tonsured and bestowed the four Minor Orders of Porter, Lector, Exorcist, and Acolyte on Brother Schuckardt while about 40 people, almost exclusively members of the Fatima Crusade from various parts of the country, were present to witness the event. On October 29, 1971, Bishop Brown conferred the Major Orders of Subdeacon and Deacon upon him. On October 31, 1971, Bishop Brown ordained Francis Schuckardt to the priesthood, and on November 1, 1971, the Feast of All Saints, Bishop Brown consecrated Schuckardt a bishop according to the traditional Catholic Roman Rite. The ceremonies took place in a rented ballroom in Chicago in the presence of approximately 25 TLRC members.
At first Bishops Brown and Schuckardt worked peaceably together, Bishop Brown tending to the needs of traditional Catholics in the eastern part of the U.S. and Bishop Schuckardt taking care of the West. Later, however, Brown accused Schuckardt of duplicity in accepting ordination from his hands. In a letter written in June 1975, Brown wrote: "The arrangement (at the time of consecration) was to form two dioceses with each of us to head up one; however, I was never able to bring him to a decision about diocesan boundaries.... It became painfully obvious to me that he had no intention whatever of sharing episcopal authority, but, on the contrary, his aim was to 'take over' and crown me out."
In a message to his followers in 1972 Schuckardt said he "had great reluctance to accept consecration as bishop... I would have to answer to eternity for saying 'No' to the continuation of the Catholic Chuch in the catacombs". Brown countered this statement by writing: "The truth is that my intention was only to ordain him to the priesthood and then at some later date – within two or three years – to make him a bishop; however, he was so insistent that it was absolutely necessary for him to be consecrated bishop immediately that I gave in – to my eternal regret – and gave him episcopal consecration. His much vaunted 'humility' was not in evidence at that time." During the autumn of 1972, Bishop Schuckardt received the Last Rites in Coeur d'Alene, Idaho, due to a gangrenous intestine; he survived, but his already precarious health had been further compromised.
Between 1974 and 1979 he then ordained Rev. Chicoine and a small handful of others to the priesthood who help him build the Tridentine Latin Rite Catholic Church, primarily through the continued lecture circuit. The fact of his consecration and the source of his episcopal orders was announced at his first public Mass for the Fatima Crusade, on December 12, 1971. All but a tiny fraction of the Fatima Crusade accepted his consecration. It should be noted that other traditionalist Catholic bishops, such as Archbishops Marcel Lefebvre and Ngô Ðình Thuc Pierre Martin, had not broken with the mainstream Church at this time. The validity of their ordinations and consecrations is also disputed by many.
By 1984, Bishop Schuckardt had transformed the original group of Brothers and Sisters who started in 1967 into a large community,. The Tridentine Latin Rite Catholic Church numbered about 120 Sisters, 6 active priests, 61 Clerics and Brothers, K - 12th grade boys and girls school, the Knights of the Eucharist, the Knights of the Altar, the Knights of St. Karl the Great, the Altar & Rosary Society, Cana Cell for couples interested in courtship and marriage, the Holy Name Ushers, several Third Orders, numerous Fatima Cells, St. Anne's Home for the elderly and infirm, the Little Daughters of the Immaculate Conception Convent for the mentally impaired, the Singing Nuns, the Kevelaer School for the neurologically impaired, the St. Joseph's Workers Guild, the Mater Dolorosa Guild to aid the terminally ill and arrange for their funerals, etc.
Scandal and Accusations
The TLRC questioned the orthodoxy and Catholicity of other Traditionalist bishops such as Archbishops Marcel Lefebvre or Ngo Dinh Thuc, and had nothing to do with them. Followers had concluded that Schuckhardt was "the last true Roman Catholic bishop left on the face of the earth."
Schuckhardt had also cultivated a cult of personality among his followers. TLRC members believed Schuckhardt was God's chosen insturment to save the church from the destruction that resulted from a Freemasonic infiltration of the church and Vatican II. There are reports of members seeking his personal items such as handkerchiefs because they believed them to be relics of a saint. Former members report that they felt so devoted to Schuckhardt that there wasn't enough any of them could do to please him.
Former members have called the TLRC a destructive cult. They assert that TLRC members were systematically cut off from the rest of society and have been programmed to obey the commands of church leaders or risk loosing their souls. The outside world was regarded as inherently evil and members commonly believed conspiracy theories regarding the United States Goverment and the Vatican. Members were required to sever ties with family members who did not belong to the community, even if breaking up a marriage was necessary. Books, both religious and secular, were confiscated from members and only books approved by Schuckhardt were allowed. In addition, subscription to secular newspapers and magazines as well as owning a television were banned. Books sold in the church bookstore were also modified. Whole pages were removed, or lines of text were pasted over with strips of paper when found objectionable by Schuckhardt. Further, publishers' names and addresses were removed or covered to prevent members from ordering books directly.
All members were required to send their children to the TLRC schools. Children were subjected to excessive corporal punishment for trifling matters such as failing school assignments or talking out of turn. Excessive numbers of spankings with wooden boards or razor straps were employed as well as more bizzare practices such as forcing children to eat soap or have jalapeňo peppers shoved down their throats. There were instances of criminal prosecutions against school staff. On October 26, 1976, for example, a religious teacher in the school, Paul Welsh, was sentenced to serve five days in jail in Kootenai County, Idaho for excessive spanking of a 10-year old student. Verbal abuse was also commonly used in addition to physical abuse.
Schuckhardt also began the practice of requiring seminarians and male religious to swim nude in his presence and would routinely conduct "knee inspections."
Schuckhardt's constant ill health would force church services to be delayed to odd hours of the night. Also, during this time, Schuckhardt developed an addiction to the large quantities of prescription medications he was taking to enable him to function even in a limited capacity.
The local media started to attack Schuckardt and the TLRC. Many of the clergy and laity alike were becoming more and more dissatisfied and eventually Schuckhardt's leadership began taking its toll on the community. Schuckhardt's second-in-command, Father Denis Chicoine, tried to improve the situation by working with Schuckhardt but eventually the situation became too great with the public revelation of Schuckhardt's alleged sexual impropriety. It had been asserted that Schuckhardt had been sexually seducing several of his male religious and seminarians.
Finally, on May 27, 1984, Chicoine publicly denounced Schuckardt and published a list of charges against him addressed to the members of the TLRC. The charges were that Schuckardt had imposed arbitrary and fanatical rules. The dress code for women was unusually strict, even by traditionalist's Catholic standards with women required to have their heads covered not only in Church, but at all times. Everyone was required to wear a rosary around their neck, over their clothes where everyone could see it. Information and books from the outside world were carefully censored, to the point that nuns would cut and paste over sections of Dick and Jane books that were considered taboo. He also forbade any literature that wasn't approved by him. Members were expected to walk backwards out of church when no Catholic parish or religious order before or since has ever imposed such a rule. Mass was starting later and later in the evening, forcing members to stay up late into the night waiting for Schuckardt, who, though increasingly sickly, was still firmly in control. He discouraged his followers from allowing their children to attend college. Though he prohibited his flock from watching television, he voraciously consumed TV news, pop culture and politics fed into his home by a satellite dish. He enforced the practice of breaking up marriages if one spouse wanted to move to Spokane to join the community and the other did not. There were some occasions where the first would be advised to leave their spouse and come anyway, an act in violation of most Catholic doctrine. Discipline of the children was very strict and even abusive, such as excessive beatings with leather straps, shaving heads, locking children in attics with no access to water, or stuffing jalapeños down their throats. His ordained followers were ordered in many cases to become flagellants or other cases of mortification of the flesh. Schuckardt began sexually seducing his seminarians and religious men. He would also have them swim naked in his presence and have "knee inspections." One of his older priests, Clement Kubish, had gone public charging Shuckhardt with homosexuality. Finally, Schuckardt was preparing to declare himself '''Pope Hardian VII''' and had began certain practices of popes, such as wearing a white cassock on occassion and demanding that his close associates accord him papal honors.
Counterclaims
Schuckardt responded by declaring that the rules were neither arbitrary nor fanatical, each and every major directive had its basis in Catholic principles. The dress code "by traditionalists' standards" was strict, but the dress code was not based upon "traditionalists' standards" but upon compliance with the standards set forth by Pope Pius XI and Pope Pius XII regarding "Mary-like" standards of modesty, as well as an attempt to answer Our Lady of Fatima's plea for reparation for the sins of man, of which she said that sins of flesh were damning more souls to Hell than any other. Women were not required to cover their heads at all times but only required to have their heads covered in Church, but were encouraged to have them covered whenever in public, in imitation of the Virgin Mary. Only the religious were required to wear their rosary around their neck as part of their religious habit. All people were encouraged to wear their rosaries, a practice common in Catholic countries during the Middle Ages, and not to be ashamed to wear them over their clothes where others could see them. Regarding censorship, Schuckardt asserted that the Catholic Church charges her Bishops with the duty of prohibiting reading materials that are morally offensive.
The counterclaims contineud asserting that the practice of walking backwards out of church was optional, not mandatory. It was encouraged, however, in an effort to keep to the ideals outlined by Pope Pius XI, on the Kingship of Christ. The very infrequent public Masses of Bishop Schuckardt were not mandatory and thus no one was "forced" to stay up late waiting for him. People were, however, strongly encouraged to do so, because Bishop Schuckardt considered Epicospal functions an important part of Catholic liturgy.
By forbidding members to attend college, Schuckardt asserted that he was conforming to the teachings of the Catholic Church, which states: "Catholic children may not attend non-Catholic, neutral, or mixed schools... and it pertains exclusively to the Ordinary of the place to decide... under what circumstances and with what precautions against the danger of perversion, attendance at such schools may be tolerated." He claims to have allowed only discerning adults to watch television, and even then only with a great deal of caution. This is in keeping with the teachings of the popes regarding the evils television presents to Catholics. Bishop Schuckardt watches television, but he considers himself to be a discerning adult.
Schuckardt contends that many of the marriages that he caused to break up were not valid marriages according to Catholic Church law, thus rendering these individuals communal life sinful; and with rare exception, the only moral solution was separation. Furthermore, it is not against Catholic doctrine for spouses to separate for reasons of adultery, or "if one of the parties has joined a non-Catholic sect; or educated the children as non-Catholics; or is living a criminal and ignominious life; or is causing grave spiritual danger or corporal danger to the other; or makes the common life too hard by cruelty - these and other things of the kind are so many lawful reasons for the other party to depart..."
Schuckardt contends that disciplining children as described above is totally excessive and sinful, and is so outrageous that one has to question the veracity of such statements. Some of these statements came upon the heals of a multi-million dollar lawsuit filed by a Jerry O'Neil which was overturned by the Idaho Supreme Court, which noted that cases such as these are usually motivated by vindictiveness and revenge. After over 10 years of pursuing this lawsuit, O'Neil received a jury verdict of $4,379.00 against a single Church corporation. There were no punitive damages awarded of any kind either against Schuckardt or the Fatima Crusade. Furthermore, Schuckardt contented, if there is an element of truth in the above-described disciplining, one ought to look to Chicoine, who was healthy and not bed-ridden, to the school principals and to the school teachers, who ran the schools on a day-by-day basis.
Schuckardt asserts that no one was ordered to become flagellants. The use of the flagella and other means of mortifying the flesh is something that Christ taught as necessary to salvation, and was practiced by the Apostles, and is considered by all true Catholics to be a virtue.
Regarding the charge of sexual improriety, Schuckardt's defenders ask how does one prove a negative? How does one prove that an accusation is false, when by its very nature it excludes the possibility of either physical evidence or witnesses? Furthermore, it is accepted science that sexual predators are incurable, therefore if Bishop Schuckardt was a sexual predator, as many claim, surely over the last 21 years at least one more accusation would have surfaced, especially when considering that there have been people who left the Schuckardt faction between 1984 and 2004 who are very hostile towards him; but none have. It is also noteworthy that in 1987 all of the Religious men, seminarians and boys that were boarding with the seminarians were individually questioned by the Sheriff's Department and the FBI regarding this particular accusation, but they found nothing. About once a year all of the male Religious would gather together at Mount Saint Michael for a major feastday celebration, which included various forms of recreation, either in the gym or in the adjacent swimming pool. During cleanup in the locker room, he did indeed inspect the knees of all of the male Religious (many of the Brothers were plagued with knee problems from excessive kneeling) and their general overall condition. Chicoine and the other superiors sat right beside the Bishop during these inspections and it wasn't until after 1984 that anyone ever gave them sexual overtones. The Schuckardt faction says they are unaware of Kubesh going public with accusations of homosexuality.
Schuckardt denies that he has never declared himself pope. Some of his followers, however, believe him to be so based upon the beleif that he is the "last true Catholic bishop" in the world as well as upon the teaching of the Catholic Church that the Church must have a pope, except during periods of interregnum.
Expulsion and Exile
Chicoine found that he had the backing of the vast majority of the religious and laity alike, and took charge of the TLRC. Not long after Chicoine's condemnation, Shuckardt, in fear for his safety, left the area with a small handful of followers. It turned out that this fear was well founded, for investigative Sheriff's Deputy Robert Cloud testified under oath in 1988 that he "had received information from the Washington area that members of the Richard Butler Aryan Nations Church had been seen on the Mt. St. Michael's compound observing St. Francis's brigades performing drills and training. During that meeting I specifically asked that question of Mr. Kerfoot, and Mr. Kerfoot was, I would say, evasive at best, but indicated that there may have been occasions when the Butler group, or Butler himself had been on the property." (Calif. Case 87-12258)
Bishop Schuckardt and his followers moved "secretly through the Northwest, stopping at cities in five states and Canada, at first never daring to spend more than one night in the same place," according to the ''Inland Register'', the Roman Catholic Church's newspaper]] in Spokane. They finally settled in Greenville, California. Members moved into several homes in the area and picked up where they had left off.
Schuckardt and his followers continued to operate as the Tridentine Latin Rite Church while the Chicoine faction reincorporated his group as the Latin Rite Catholic Church on on June 14, 1984.
The Chicoine faction sued the Schuckardt faction, alleging the Schuckardt took property belonging to the Chicoine faction. They obtained a default judgment against the Schuckardt faction for $250,000.00 as well as an injunction barring them from Fatima Crusade properties. (Case 84-2-01445-2). The "Default Judgment" was challenged by the Schuckardt faction in 1988 and successfully overturned for Bishop Schuckardt and most of his followers.
Arrests and Legal Wranglings
On May 9, 1987 a Plumas County Sheriff's Department SWAT team, with support from the California Highway Patrol, conducted a raid on the Tridentines. Deputies searched Bishop Schuckardt's house and those of the Brothers and the nuns while a CHP helicopter hovered overhead to look for automatic weapons which the Chicoine faction falsely told them they possessed (calif case 872823). They found illegal drugs along with precious metals in quantity, $75,000 in cash and about eight handguns and rifles in the three separate homes.
Bishop Schuckardt and 13 of his followers were arrested for possession of stolen property and the unlawful possession of a controlled substance (calif case 872823). Bishop Schuckardt accepted a plea bargain of attending a one-day drug-diversion class in exchange for all charges being dismissed against him.
All charges against the other 13 were dismissed without prejudice (calif case 87-12190) and all the property seized by the sheriff's office was returned to them, the judge ruling that it was not a criminal issue. Following their dismissals, the 13 then successfully obtained a Declaration of Factual Innocence and had their criminal arrests erased from their records (calif case 87-12258). Immediately after the arrests of the Schuckardt faction, the Chicoine faction filed two civil suits (calif case 13096_13097) in California to obtain all the property the Sheriff's Office had seized as "stolen property," but neither was successful. They further filed civil actions against the Schuckardt group in Utah, Arizona, and Canada, (canadac 872893) but lost all of these cases as well.
The Schuckardt group then filed a Federal Civil Rights Suit against the Sheriff's Department and the County for violation of their civil rights in the U.S. District Federal Court. At a settlement conference presided over by Chief Justice Karlton, the County agreed to pay an undisclosed, but significant sum of money to keep the case from going to trial.
The Schuckardt faction also challenged the civil suit (wash 84 2014452) filed by the Chicoine faction in Washington in 1984 and agreed to a settlement before the trial began in 1993. The settlement heavily favored the Chicoine faction. Nine years of legal wrangling finally came to an end, with the Chicoine faction getting the lion's share of the Fatima Crusade's assets.
The group decided to leave the rural county for a more urban environment. Bishop Schuckardt chose the destination: where he had been born and raised, and where his widowed mother lived. He wanted to be closer to her, and assigned two nuns to care for her around the clock after she became seriously ill, as he had also done to several other sick and elderly members of his flock (Dorothy Gutsche, Anthony Constable, Charles Springer).
In September 1, 2002, Schuckardt's Tridentine church was in the news as one of his nuns, Sister Helena Maria, CMRI (Helen Chaska before becoming a Sister), had been strangled with her rosary, raped and killed in Klamath Falls, Oregon by Maximiliano Esparza, an illegal immigrant with several arrest warrants. An unnamed companion of Sister Helena Maria had also been raped by Esparza, though she survived. Esparza is currently serving a life sentence. The Tridentine Church and the Religious Congregation took care of Sister's burial.
As of 2002, Schuckardt had not been seen in public, and it is not known if he is still alive. Though a reporter from The Seattle Times attempted to obtain an interview with him, requests were denied because of health reasons, although the reporter was allowed to conduct an extensive interview with 6 Church members and given access to Church services.
In November 2005, allegations of sexual abuse by two church members against a minor boy as well as efforts of former members to forcibily rescue their elderly mother, Kathleen Raleigh, from Schuckardt's group were reported in the national media.
Media reports
Some of these links are broken and need to be updated.
2006 Consecrations
On May 19, 2006, Bishop Schuckardt consecrated two men:
Bishop Mary Fidelis (Andrew Karl) Jacobs, the new leader of the group (see their current website).
Bishop Joseph Belzak was to assist Bishop Fidelis A. Jacobs as his auxiliary bishop. He later decided this consecration was invalid, and has been on his own for some time. He claims to be a hermit now (see his website).